Lead Management
CMS Lead Management Solution (LMS) is an integrated application for call centre, dealer sales floor and dealer sales management.
CMS LMS has the capability to integrate with any web service to fetch and push electronically generated leads, with integrations to most website aggregators and OEM generated enquiries, to seamlessly allocate and create the prospect automatically in the CMS Sales Cloud module, ensuring real-time visibility. Electronic dealer notifications ensure prompt action.
Integrated LMS
CMS LMS is fully integrated with Logimeter CallConnect to ensure instant connection to the enquiry, voice recording of first contact, all available in the prospect record, in one solution. All lead activities feed into detailed reporting on every action and outcome. Mobile application available for on the move lead management.
CMS LMS is scalable to suit multiple different options, to get leads qualified and contacted in the shortest amount of time.
Sales Cloud
CMS Sales Cloud is simple and designed to keep salespeople selling by giving them access to integrated tools and functions that provide the full context of a prospect's profile. The system keeps them in the loop and allows them to capitalize on opportunities that generate sales while providing useful tools for each step of the process. Data is kept in one cloud, with full compliance with the POPI Act. The solution offers customer-facing Opt-Out functions and total adherence to the privacy of customer information.
Sales Executive Dashboard
CMS Sales Cloud provides interfaces to most supporting systems (F&I and most DMS) including deal submission for invoicing and finance applications, updated statuses and overall deal closing.
CMS Mobile
With the CMS Mobile Sales Management PWA, simply manage appointments, test drive logs and register with driver's license scanning to confirm test drive, mitigate risk, ensuring the most completed information updates on the prospective customer's profile in the Sales Cloud. Easy actioned Follow-up logging integrated with Logimeter CallConnect.
CMS Mobile also facilitates Stock Management and Stock views across groups for Sales Executives, allowing viewing of information on any mobile device.
CMS Mobile Sales
CMS Mobile PWA modules enable access from any mobile device and manage the activities of various other modules. The CMS Mobile PWA modules are easy to use and make the management of all modules across the range simple.
CMS Reporting
All activity on the CMS System's products are automatically recorded and tracked.
The tracking of leads, measuring conversion ratios, converting leads into active prospects and reviewing progress through the sales funnel in one report dashboard. Dealership Dashboard makes it easy to keep the team focused on high-value activities, building, and managing your sales pipeline.
CMS Reporting
Single login access, real-time secure centralised data is stored in one common location, accessible from anywhere.
One Login
CMS One Login combines all the modular offerings into one cloud facility. Users can easily view and access any CMS module from ONE LOGIN.
The CMS Customer Relationship module (CRM) is designed to fully complement the CMS Sales Cloud and other modules on offer. The easy-to-use solution is configured to provide dealerships with a stronger approach to managing customer relationships.
The (CRM) module creates and stores complete customer records from all areas of your dealership. This creates a complete record of the customer, their vehicles and interaction history, which enables effective customer aftersales management.
CMS One Login
The module also tracks and reports on all aftersales contacts such CSI and Concern Logging (CRP) with case logging and interdepartmental communication ability. Track and manage your dealership customers across the total lifecycle.
Stock Management
CMS Stock Management module allows automotive dealerships to be self-sufficient and develop a complete online platform to load and publish stock to external websites as well as system stock lists in the CMS Sales Cloud module (or other dealer management systems) for lead conversion management.
Single login and secure mobile access, load vehicles, complete health checks or stock takes.
CMS Stock Management linked with direct import from the various Dealer Management Systems.
3rd Party and Website Stock Distribution to web site and campaigns for Internet Marketing and exposure.
Centralised Stock View cross group and dealer floors for easy reference to locate available stock.
Comprehensive Stock Take through cloud based stock management and Mobile app with QR code, Manual Vin or Disk scan ID.
Location and Geo Location recorded to ensure physical stock confirmation via images or map.
CMS Stock Management
CMS Stock Management module has a range of stock management functions, including CMS Stock Take which enables a dealer to easily update and manage inventory, while keeping updated lists published for marketing and sales activities.
CMS Integrations
CMS is able to integrate its offerings with various Dealer Management Systems (DMS) to provide end-to-end seamless solutions.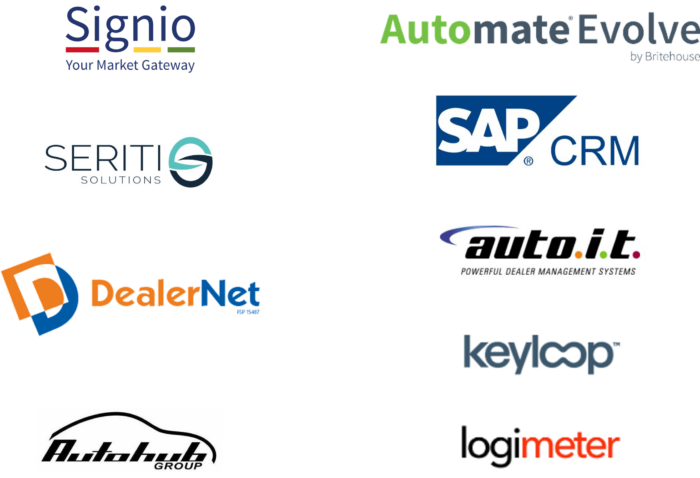 Get in touch!
We're here to help.